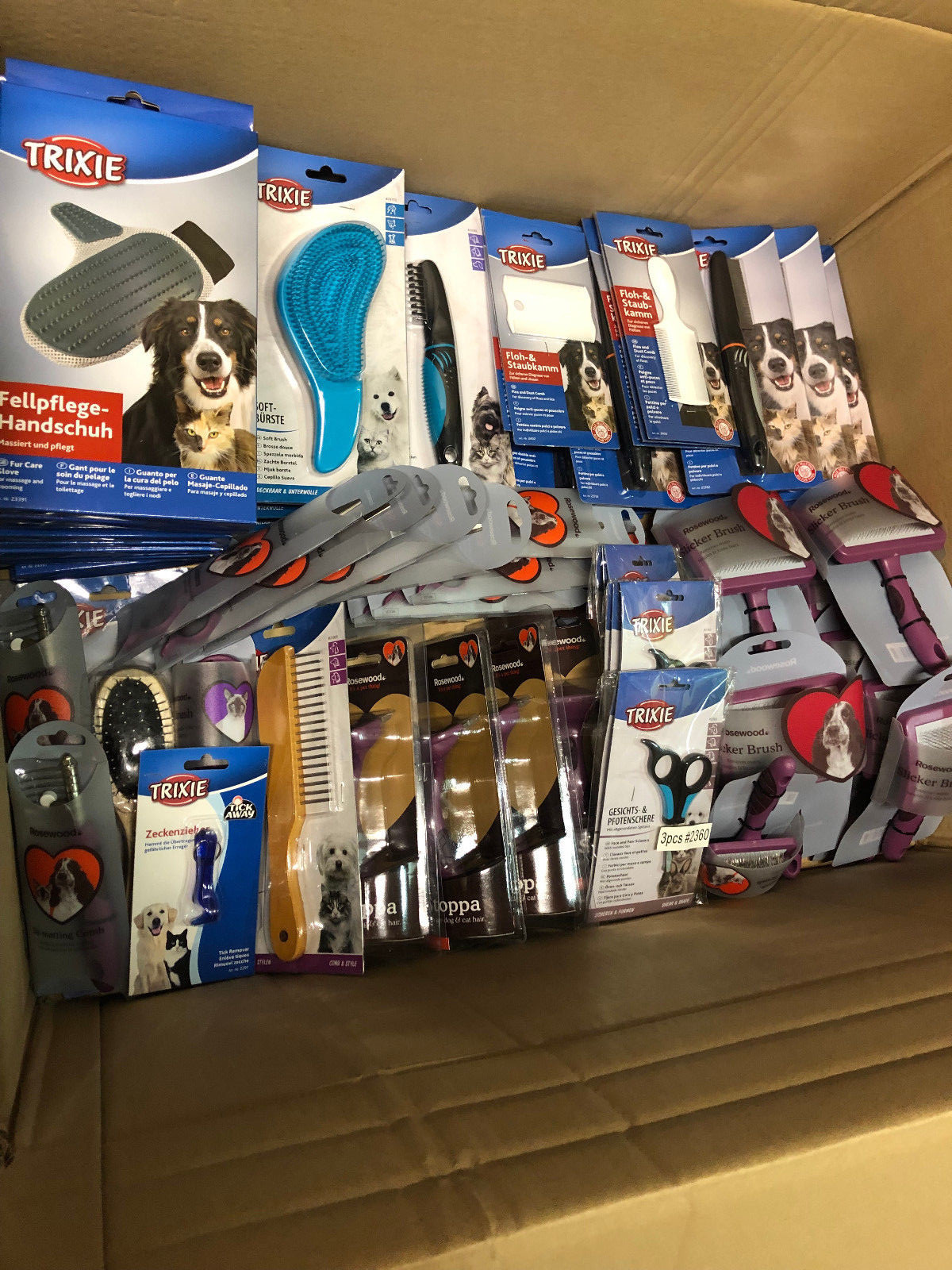 Click here to see similar items on eBay, and to buy.
Wholesale Joblot!
Dog / Cat / Pet Grooming Products!
All items in this listing are brand new items, all branded products from well known brands! such as Trixie, Rosewoods
All brand new with lables or tags & in packaging!
Starting price is 99p with no reserve! Once its gone, its gone!!!!
503.23 worth of retail stock!!
Ideal for pet shop owners, online sellers ebay, amazon etc. market traders & car booters
Any questions! feel free to contact us!
Good luck 🙂 & Happy bidding!
Description of goods along with R.R.P & Line Value!
11 x Trixie Grooming Glove – R.R.P 3.99each
3 x Trixie Soft Dog Brush R.R.P 3.99 Each
1 x Double Sided Brush by Trixie R.R.P 5.99each
5 x Trixie Fur Detangle Comb / Brush R.R.P7.99 each
12 x Trixie Flea & Dust Comb R.R.P 6.99 each
9 x Rosewood Large Slicker Brush R.R.P 8.99each
4 x Rosewood Small Slicker Brush R.R.P 6.99each
1 x Rosewood Car Brush R.R.P 4.99each
4 x Moult Stoppa Brush (1 small, 1 medium, 1 large & 1 cat) combined R.R.P71.96
6 x Rosewood Grooming Scissors  07106 R.RP 6.99 each
4 x Rosewood Grooming Scissors 07104 R.R.P 6.99 each
2 x Dematting Comb Rosewoods 07508 – R.R.P 5.99each
2 x 9cm Plastic Dog Comb flea R.R.P 1.99each
3 x 14cm Plastic Dog Comb Flea R.R.P 2.49each
1 x Tick Remover by Trixie R.R.P 2.49 each
8 x Face & Claw scissors for Pets by Trixie R.R.P 3.99 each
1 x Wooden Rake Comb R.RP 3.99each
****POSTAGE IS TO THE UK ONLY******
Click here to buy, and to see similar items on eBay
---
Category: Wholesale and Job Lots:Home and Garden:Pet Supplies
Location: Leeds