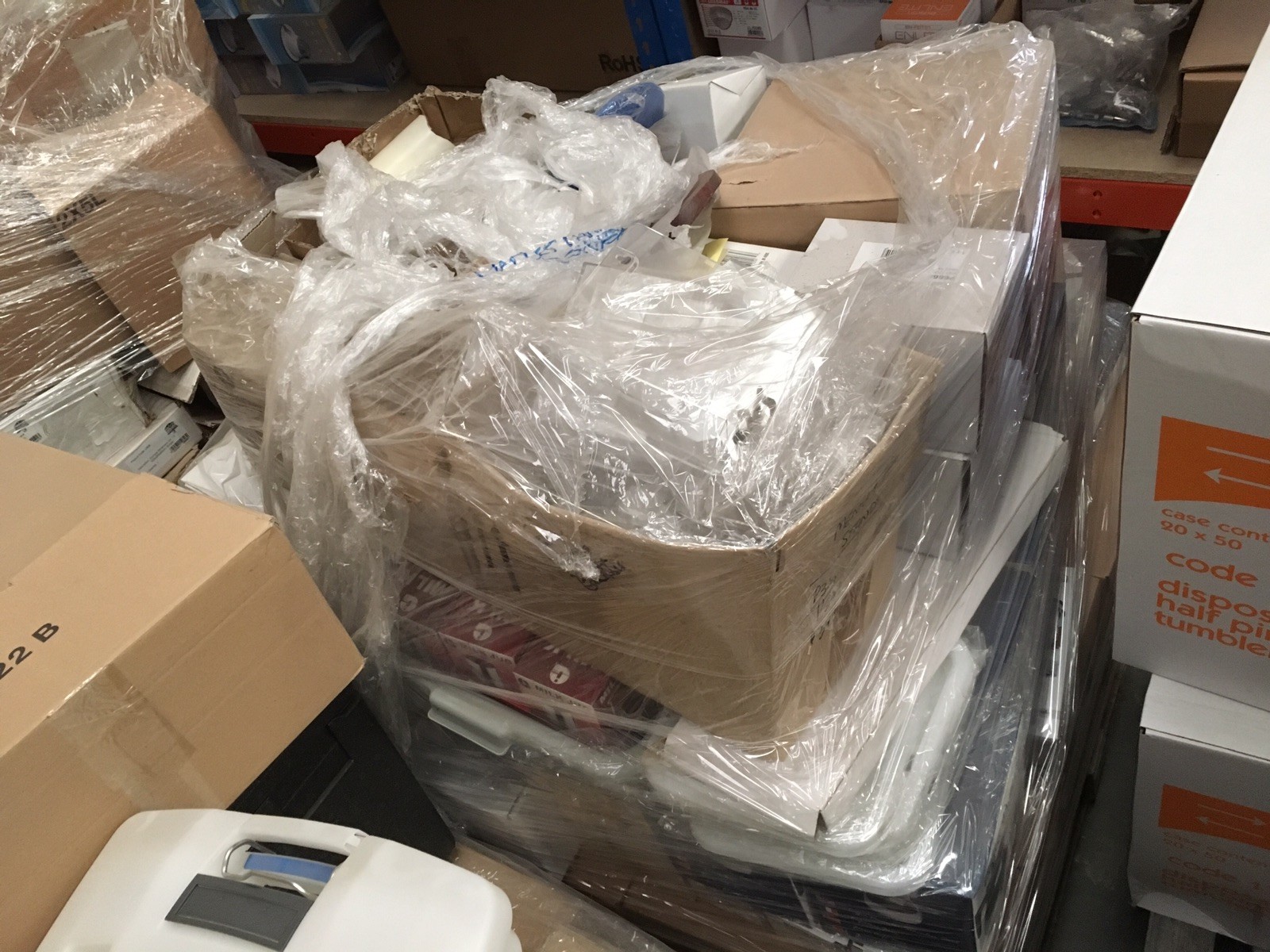 Click here to see similar items on eBay, and to buy.
Here we have a Pallet of crockery and catering supplies. ALL NEW just need space in Warehouse. 
we have 2 pallets is worth 1166.80 and 567.39 COST price is 833.43 and 405.28 Can be sent on Pallet sfor 45 or collected. will need a van. 
Excellent opportunity to make money from this. we just need the space. some big brands in here . see below for full run down of products. Get in touch for buy it now.
Product Code description Qty qty stock code cost price total price  List Price CD681 Glass Quadro Bowls (24) 1 1 NS-CA-CD681 28.29 28.29 39.61 39.61 E20025 Pure White Oval Plate 10″/25cm 12 12 CA-PW-OV10 1.27 15.24 1.78 21.34 132116 Genware Oatmeal Bowl 6 6 CA-GW-362116 1.65 9.90 2.31 13.86 322107 Genware White Porcelain Stacking Cup 20cl (6 PACK) 4 0 CA-GW-322107 0.73 0.00 1.02 0.00 215 17 SINGLES         0.00 0.00 0.00 FC30RD Genware Rectangular Dish 12″ 1 2 CA-GW-FC30RD 3.58 7.16 5.01 10.02 P774 P774 Large Ramekin 3.25″ (24) 1 1 NS-CA-P774 30.16 30.16 42.22 42.22 187626 Royal Genware Coupe Plate 26cm 12 12 CA-GW-187626 1.40 16.80 1.96 23.52 E80015 Pure White Double Well Saucer 6″ 15 48 CA-PW-TS06 0.37 17.76 0.52 24.86 M10006   1       0.00 0.00 0.00 112824 2 X 6 9.5 X 7 RECTANGULA DISH 2 0 NS-CA-K112824 2.38 0.00 3.33 0.00 M10032 Utopia White Tapas Dish (6) 4 4 CA-TAPAS-W 9.95 39.80 13.93 55.72 15 ROUND EARED DISH          0.00 0.00 0.00 P884 P884 Churchill White Cappuccino Saucer 6.25″ (24) 1 1 NS-CA-P884 29.00 29.00 40.60 40.60 RGO0118 DB454 White Cappuccino Crumpled Tumbler (6) 3 3 NS-CA-DB454 4.90 14.70 6.86 20.58   CC200 Athena 7oz Stacking Cup (24) 30 36 NS-CA-CC200 0.53 19.08 0.74 26.71   Pure White Stacking Tea Cup 7 oz 60 71 CA-PW-TC07 3.44 244.24 4.82 341.94 BMUG28 Royal Genware Mug 28cl 6 6 CA-GW-BMUG28 0.50 3.00 0.70 4.20 BS4034 Pure White Latte Mug 60 60 CA-PW-LM12 0.77 46.20 1.08 64.68 BBSC25 Royal Genware Tableware Saucer 36 36 CA-GW-BBSC 0.40 14.40 0.56 20.16   Oval Eared Dish 32cm 2 2 CA-OED-B23C-W 3.35 6.70 4.69 9.38   Oval Eared Dish 28cm 8 8 CA-OED-B23B 1.91 15.28 2.67 21.39   Genware Oatmeal Bowl 16cm 6 0 CA-GW-OATB 0.74 0.00 1.04 0.00   SPF15 Round Eared Dish 15cm 11 11 CA-RED-SPF15 1.27 13.97 1.78 19.56   Genware White Porcelain Classic Plate 17cm 24 24 CA-GW-160617 0.75 18.00 1.05 25.20   Oval Eared Dish 25cm 6 boxes 22 22 CA-OED-B23A 1.67 36.74 2.34 51.44   SPF18 Round Eared Dish 18cm 6 6 CA-RED-SPF18 1.40 8.40 1.96 11.76   Royal Genware Rectangular Dish 16cmx12cm 6 6 CA-GW-351616 2.25 13.50 3.15 18.90   Rectangular Dish 19cm x 14.5cm 6 6 CA-GW-351619 3.07 18.42 4.30 25.79   Contemporary Smooth Ramekin 6.5cm 12 12 CA-RAMCON6-W 0.50 6.00 0.70 8.40   White Ramekin 9cm unknown 36 CA-RAM-SPS9 0.57 20.52 0.80 28.73   White Ramekin 6.5cm 18 18 CA-RAM-SPS6 0.48 8.64 0.67 12.10   Churchill White Ramekin Small 12 12 CA-CHW-RAMS 0.95 11.40 1.33 15.96   DM161 Plain Black Ramekin 1.5oz (12) 6 6 NS-CA-DM161 3.48 20.88 4.87 29.23   Black Dipper Pot 2oz 32 32 CA-RAM-BLK 0.37 11.84 0.52 16.58   Glass Vinegar Shaker With White Plastic 59 59 GL-VIN-S 0.44 25.96 0.62 36.34   Simplicity White Pepper 12 12 CA-STSW-PE 3.85 46.20 5.39 64.68   Glass Vinegar Square 7 7 GL-VIN-SQ 0.75 5.25 1.05 7.35   Universal Steamer 2 2 CA-STEAMER 5.00 10.00 7.00 14.00 Pallet 3 152.12 833.43 1166.802
Product Code description Qty sage qty stock code cost price total price  CF337 LUMINA SACUE BOAT 4 4 NS-CA-CF377 13.31 53.24 18.63 74.54 CD629 BOX OF 6 LUMINA RECTANGULAR PLATE 1 1 NS-CA-CD629 17.52 17.52 24.53 24.53 CB483 BOX OF 6 OLYMPIA WHITE RIMMED PLATES 1 1 NS-CA-CB483 15.12 15.12 21.17 21.17 U122 BOX OF 6 OLYMPIA WHITE RIMMED PLATES 1 1 NS-CA-U122 21.04 21.04 29.46 29.46 CB705 Olympia Oil & Vinegar Set With Base & Stoppers 5 2 NS-CA-CB705 5.13 10.26 7.18 14.36 CB707 Olympia Whiteware Gravy Boat 3oz (6) 1 0 NS-CA-CB707 9.05 0.00 12.67 0.00 U819 U819 Olympia White Jug 6oz (6) 2ND ON PALLET 4 1 1 NS-CA-U819 7.07 7.07 9.90 9.90 U829 Olympia Square  White Bowl 17cm (12) 2 2.25 NS-CA-U829 22.63 50.92 31.68 71.28 Y139 Olympia White Shell Dish (12) 2 2 NS-CA-Y139 7.27 14.54 10.18 20.36 CC201 Athena 8oz Cappuccino Cups (24) 2 2 NS-CA-CC201 15.08 30.16 21.11 42.22 CC207 Athena 8″ Wide Rimmed Plate (12) 1 1 NS-CA-CC207 10.21 10.21 14.29 14.29 CC214 Athena Rimmed Soup Bowl 9″ (6) 1 1 NS-CA-CC214 7.54 7.54 10.56 10.56 CB469 Olympia Whiteware Cappuccino Cups 7oz (12) 1 1 NS-CA-CB469 11.24 11.24 15.74 15.74 C250 Open Sugar Bowl 7oz (12) 1 1 NS-CA-C250 12.77 12.77 17.88 17.88 C104 Earthenware Oval Pie Bowl 5.25″ (6) 1 0 NS-CA-C104 2.97 0.00 4.16 0.00 C203 Milk/Cream Jug 1.5oz (12) 5 5 NS-CA-C203 6.46 32.30 9.04 45.22 CB470 Olympia Cappuccino Saucer (12) 1 1 NS-CA-CB470 9.25 9.25 12.95 12.95 CB474 Olympia Teapot 30oz (4) 1 1 NS-CA-CB474 19.39 19.39 27.15 27.15 CB468  Olympia Whiteware Stacking Saucer (12) 1 1 NS-CA-CB468 7.70 7.70 10.78 10.78 CC211 Athena 10″ Oval Coupe Plate  (12) 2 0 NS-CA-CC211 17.35 0.00 24.29 0.00 CB462 Olympia Cappuccino Cups 10oz  7 0 NS-CA-CB462 1.04 0.00 1.46 0.00 F859  Latte Glass 250ml/8.66oz (12) 1 1 NS-CA-F859 12.93 12.93 18.10 18.10 CC201 Athena 8oz Cappuccino Cups (24) 1 2 NS-CA-CC21 15.08 30.16 21.11 42.22 CC200 Athena 7oz Stacking Cup (24) 1 1.5 NA-CA-CC200 12.82 19.23 17.95 26.92 C359 Olympia White Latte Mug 10oz (12) 1 1 NS-CA-C359 12.69 12.69 17.77 17.77 PALLET 2 292.66 405.28 567.3885
Click here to buy, and to see similar items on eBay
---
Category: Wholesale and Job Lots:Other Wholesale and Job Lots
Location: York